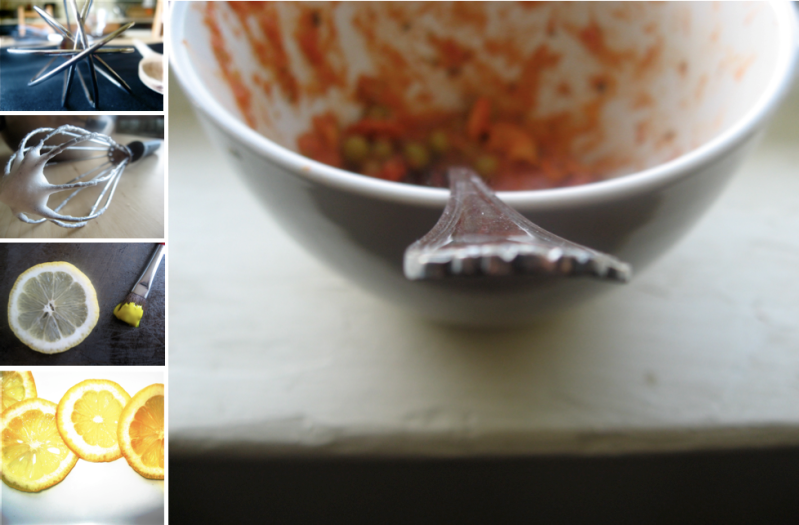 Photo Title: Focus
Blog Name: The Sophisticated Gourmet
Equipment Used: Canon PowerShot A550, point and shoot

Technical Details: Flash only for photo of the lemon slices in bottom left hand corner. The macro setting was on for all of the photos. ISO is always on 200 for me.
Photo Editing: I didn't crop or do any photo enhancements except to the photo of the sliced lemons where I actually used flash, so I cropped it a little, sharpened it a bit, and used the "enhance" button on iPhoto… That's about all the editing I do to my photos. I don't use anything too special for my photos, just iPhoto and sometimes if necessary, Picnik.
Setup Details & Props:
I shoot on my kitchen table near a window. No cardboard or anything… I don't have a tripod, so I try really hard to keep a steady hand, especially when shooting at an ISO of 200.
- For the photo of the pasta sauce in a bowl, I shot it on the windowsill.
- For the whisk and spoon, I shot it on my kitchen table, using my black chef's apron. It was facing toward two chairs and the kitchen sink.
- For the one below the previous photo, I whipped up some egg white in a metal bowl with the whisk until it had stiff peaks. I actually was going to make the egg white on the whisk have a point to it, but i decided against it because it didn't look too appealing. I left the bowl in the background for this photo.
- For the photo of the lemon with the paintbrush and yellow paint, I used an old and worn out cookie sheet placed on the table and took a couple shots from above.
- The last photo of the lemon slices was actually a big mistake. I accidentally turned my flash on and took the photo. When I looked at it on the computer, it looked pretty cool, so I took the darkened lemon slices out of the photo by cropping it. The lemon slices were place on a plain white plate on the windowsill (where the sun was hitting).
TIPS:
- For anyone not using a tripod: sometimes when I don't have a steady enough hand, I try to lean my hand up against something, even a stack of books, to get the perfect, un-blurred photo.
- Always try to work near natural light.
- Never use the flash setting on your camera unless you know what you're doing. In my case, it was pure accident with the lemon slices, but it came out pretty well, don't you think?
- Try to plan how you want your photos to look. This way, you end up with a great photo that doesn't need to be edited much
- If you're using a point and shoot like I am, I would definitely recommend using the macro setting, even if you are shooting from far, as it creates a more focused and sharper image.
{ 5 comments }