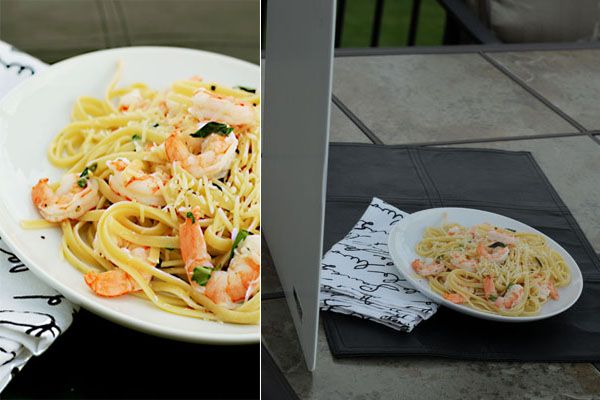 Photo Title & Recipe Link: Shrimp Linguine with Lemon Basil Sauce
Blog Name: Dine & Dish
Equipment Used: Nikon D80, 50mm Lens
Technical Details:  Exposure:  0.003 sec (1/400)
Aperture: f/5.6
Focal Length: 50 mm
ISO Speed: 200
Exposure Bias:     0 EV
Flash:     No Flash
Photo Editing: I used the Adobe Photoshop Action "Indie Subtle Color" to give the photo a pop of color. I adjusted the color balance by increasing the yellow in order to remove some of the blueish/green tones that I often get when I shoot photos outside in the evening. I used the Unsharpen Mask (which I am just now learning about) to make the overall photo a tad more sharp.

Setup Details: We ate late last night, so the sunlight in our house was minimal. I took the food out onto our patio table to take this photo. If I can, I always opt for natural lighting for my food photos vs lamps or a light box.
Props: Black placemat and black and white napkin from Pier 1 Imports.  Small round white plate.
Additional Tips: When I do food photos, I actually plate the food on small plates versus a normal dinner plate. I keep a lot of different small plates on hand for food photography. I think it is easier to make a plate look full with a small plate and it is easier to photograph as well!