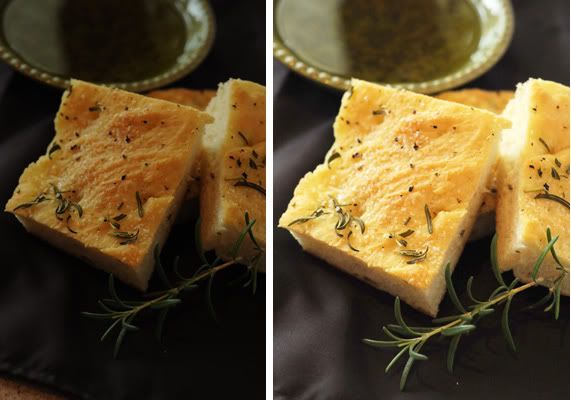 Photo Title & Recipe Link: Rosemary Focaccia
Blog Name: Dine & Dish
Equipment Used: Nikon D300, 50mm 1:8 lens
Technical Details :  From EXIF Data Exposure:     0.004 sec (1/250)
Aperture:     f/3.5
Focal Length:     50 mm
ISO Speed:     1000
Exposure Bias:  0 EV
Flash:     No Flash
Photo Editing: I used Adobe Photoshop CS and the tip below to turn this photo from really dark to presentable.
Open your dark photo in Photoshop
Up at the top toolbar go to the "Layers" tab and then drop down and select "Duplicate Layer"
If your layers window isn't open on the side of your PS main window, go up to the top toolbar, go to the "Windows" tab and select "Layers"
OK – now that the layers window is open, you should see a drop down menu in it that shows "normal". Click on that and go down to where it says "screen". Your photo should brighten up immediatley. If it is too bright, adjust the opacity (located in your layers window) to a lower percent.
Now, go back up to the Layers tab on the top of your Photoshop screen and drop down to "Flatten Image"
If your photo still needs to be brighter, repeat steps 2 – 5.
When I have the photo as I want it, I usually adjust the saturation slightly to give it a little pop of color and will also sometimes do a curve adjustment
Setup Details: It was late evening and my family was already seated to dinner around the table I usually use for photos. I put the bread by a window in my kitchen with a white foam board reflector. I had to have my ISO set really high to get a decent, not completely black shot, without using the flash.
Props: A brown satin fabric remnant, a sprig of rosemary from my herb garden, and a small bowl of dipping oil
Additional Tips: The Adobe Photoshop tip I used above is such a lifesaver for those photos that you think are a complete loss because of lighting!