Kristen here – I am so excited because this post is by a professional photographer. There is a lot of detail here to study and some great tips on the technical side to learn from.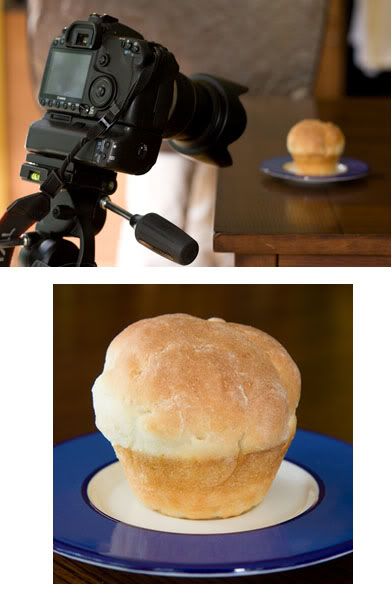 Photo Title: Dinner Roll
Blog Name: The Cupcake Project / J. Pollack Photography
Equipment Used: Canon EOS 40D
Canon EF-S 17-55mm f/2.8 IS USM
Bogen 3001 Tripod Legs
Manfrotto 808RC4 Tripod Head
Reflector
Technical Details: I mounted the camera on my tripod and set the camera up for 1/8 second exposure and f/5.6 aperture at ISO 100. I manually focused, turned off image stabilization (always a good idea if you're using a tripod), and set the camera up to use a two second delay once the shutter was depressed to let any shaking from pressing buttons subside.
I always shoot in RAW.
Photo Editing: I edited the photo in Adobe Photoshop Lightroom 2.4. Exposure was reduced by 1/3 stop, black levels set to 10, brightness at 50, and contrast at 10. White balance was manually set to 4200 and tint at 10. I also cropped the photo to square since the sides of the plate and surrounding tabletop are distractions.
Setup Details: I shot this photo using natural light on our dining room table using a plate purchased at a thrift store and a car sun shade as a reflector. I asked Stef to hold the reflector at an angle to add a little light to the back and side of the subject while I used the Live View function of the camera to perfect focus and check exposure the image slightly.
Props: plate, table

Additional Tips: Use household items as props and backgrounds for photos, and always shop at thrift stores to get the best deals on plates and other items used in staging food photos!
On the technical side, bracket exposures if you don't have the ability to instantly check photos for overexposure or underexposure.