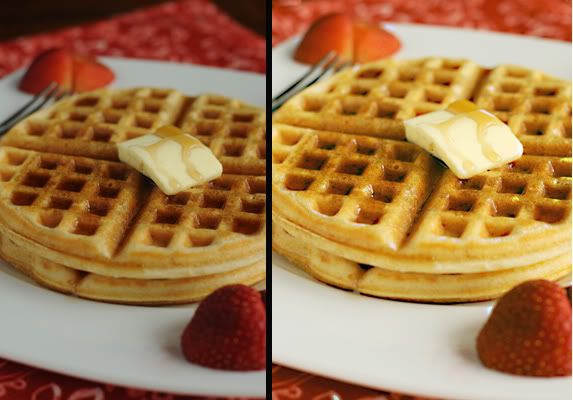 Photo Title & Recipe Link: Corn Flake Waffles
Blog Name: Dine & Dish
Equipment Used: Nikon D300
Technical Details: From EXIF Data
Exposure:      0.004 sec (1/250)
Aperture:     f/4.0
Focal Length:     50 mm
ISO Speed:     320
Exposure Bias:     0 EV
Flash:     No Flash
Photo Editing: Using Adobe Photoshop, I cropped the photo some and added some brighter tones to the photo by increasing the saturation a tad and adjusting the curves.
Setup Details: On my kitchen table near a wall of windows with a white foam board reflector set up to bounce the incoming light off of.
Props: A simple, white, square plate and a red placemat. I also added a couple of cut up strawberries and a fork.
Additional Tips: I have found, especially with round things like cakes, pancakes, waffles, etc. that the photo often is more interesting when you crop part of the subject matter out of it. I used to try to get the whole cake or the whole plate of pancakes in the picture, but have discovered that cropping part of the food out of the photo adds more interest to the end photograph.