Kristen here – Simone touched on something in her tips that I really want to work on (and hope to learn how to from this blog!) and that is how to use the Exposure Value (EV) setting with my camera. I'm going to challenge myself to start playing around with those settings more!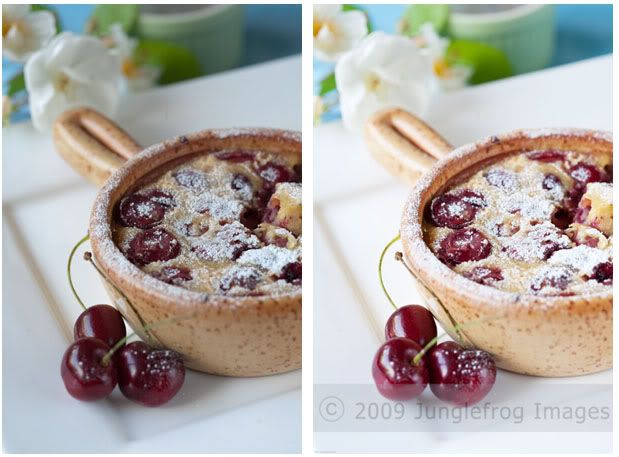 Photo Title Recipe Link: Cherry Clafoutis

Blog Name & Link: Junglefrog Cooking

Equipment Used: Canon Eos 5D, Canon 100mm 2.8 macro lens
Technical Details:
Shutterspeed: 1/6s
Aperture: f5.6
ISO 50
EV +1/3
No flash used
I always shoot in RAW
Photo Editing: I edited in Lightroom 2.4 first.
Exposure value was +0.55
Clarity +17
Vibrance +25
I then edited the settings a bit further in photoshop to enhance the contrast a bit more.
Setup Details: I shot this in my living room with natural light coming from the left. (I have a window that is facing north-east, so no direct sunlight)
I used a white foamboard with some aluminium foil to bring out the shadow details on the right.
Props: White plate, little rustic oven bowl, some flowers and a little ramekin in the background
Additional Tips: I do try and get the exposure as well as the cropping as good as possible in-camera. Adjusting a lot of settings on the final photo will usually result in more noise. A lot of people do not use the exposure value compensation a lot but change the levels later in photoshop. Try and experiment more with the EV value, as that will ultimately result in cleaner photos and will save a lot of time in photoshop work later.