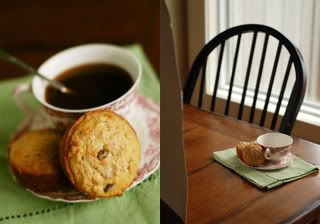 Title: Breakfast Cereal Muffins
Blog: Dine & Dish
Equipment: Nikon D80, 50mm Lens
Technical details: Aperture f/2.2, ISO 200
Photo Editing: I used Photoshop CS with Indie Subtle Color Action, pumped up brightness a bit by increasing curves and increased saturation slightly.
Setup Details: It was a cloudy, rainy day, so I had to set up as close to a window as possible. I opened the blinds and put the muffins on the table near the window. I used a piece of white poster board on the opposite side of the window to bounce the incoming light off of.
Props: Green napkin, cup and saucer
Additional tips? I often buy individual cloth napkins from Target when they are on clearance (which is often). I feel like the napkins just add an extra bit of warmth to the photo.